Malia Kailani Berger says "It's time to clean up around here."

To see the old web page click here.
Malia lives in San Luis Obispo, CA with Mom, Kristina, and Dad, Michael.
Mike Berger

Thanks for stopping by.
Hello everyone.
I am now working at Jennings Engineering. We build avionics system for UAVs (Unmanned Aerial Vehicles).
Malia has turned 4 now and is in her second year of the Preschool Program at the Laureate School in SLO. She is also taking Hula lessons once a week.
Mike regularly attends meetings of the SLO dot net group.
I spent a few years working with a start up company called MyProSeller. It is the easiest way to sell on eBay. Please contact me if you would like more information.
While working with them I won the eBay Star Developer award at the 2007 eBay Developer's conference in Boston
Malia had a great third birthday. She is preparing to move into the Preschool Program at the Laureate School. She has spent the last year in the pre-school program. She started out attending 3 days a week from 9am-12noon and now attends 5 days a week.
Check out Kristina's Ebay store "Baby Chic Boutique" Malia does all the modeling.
Malia really enjoyed her third Christmas. We didn't have a fence around the tree this year, so over time all of the ornaments in the lower third of the tree were moved up. Malia would remove them and bring them to us.
Malia got a Thomas the train Lego Duplo set which she loves.
She also got a 2' x 3' 24 piece world map puzzle which she redoes almost every day. It has drawings of animals in the places where they live. Lately she has really liked the white (polar) bear in the North American Artic.
Grandma came to visit for Malia's 2nd birthday. We had a great time.
Malia and Dad are newspaper stars. They appeared on page B1 of the San Luis Obispo Tribune on Wednesday June 23, 2004, in a photograph taken at the Sinsheimer Pool in San Luis Obispo. The article was about the 25 anniversary of the the SLO swim center.
Malia is now approaching 1 year. Her birthday is July 11th and we a planning a big birthday bash. Everyone is welcome. She is now just over 22 lbs. and getting ready to walk. She stands up on her own all the time and takes two or three steps before dropping to her behind and crawling the rest of the way. She is a great eater. Some of her favorites include Cherrios, french fries, Kraft Macaroni and Cheese, and La Creme yogurt. She also likes grapes and broccoli.
Malia's cousin Ollie has been living in Newcastle upon Tyne, UK for the last 2 months so that Ollie and Mom, Tamara, could be closer to Dad, Raj, who is working on a contract for the British Government. Ollie and Mom are back in the states for the next few weeks before returning to the UK in early July.
Malia Kailani Berger is proud to announce that she has a new cousin. Kavinda Oliver "Ollie" Wickramasinghe was born to Malia's aunt Tamara and uncle Raj at 7:18pm on Wednesday February 25th at Newton-Wellsley Hospital in Massachusetts. He was 9 lbs 4 oz and 21 1/2 inches long when he was born. Malia sends her best wishes to cousin Ollie.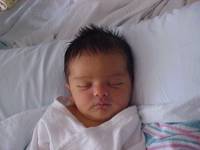 Ollie at the hospital.
Malia goes in for her foruth set of immunizations in next months. This time it includes Chicken Pox. She has done really at her first three sets. She is getting her shots at the San Luis Obispo County Health Department..
We all survived the Dec 22nd San Simeon Earthquake. The 6.5 magnitude quake was centered only about 45 miles north of SLO. Now damage to the house. A few ornaments fell off the Christmas tree, but didn't break.
Kristina Graduated from California Polytechnic State University San Luis Obispo (Cal Poly) last fall with a BS in Psychology. Great Job Kristina.
We had a great time when Altug Uyguner and family came from Istanbul, Turkey to visit for Thanksgiving week.
I plan to set up a page with photos and videos of the baby girl. Malia Kailani Berger
On the morning of July 11, 2003 at 7:21am PDT Kristina gave birth via cesarean section to our daughter, Malia Kailani Berger at Sierra Vista Regional Medical Center in San Luis Obispo, CA.. Malia was 21 1/2 inches long and weighed 8 lbs 5.7 oz. Mom went into the hospital at 7:30 am on Thursday. Most of the day and evening Thursday was spent inducing the baby. Early Friday morning Dr. Yin decided that we would have to perform a cesarean because the labor was not progressing. Mom was quite happy with this idea after over 22 hours of labor and almost 2 hours of pushing.
Kristina had a great time last year with her Hula Halau, Na Mele O Ke Kai. Her dancing was somewhat limited by the pregnancy and new baby, but she still found time to teach the beginner and intermediate Hula classes for the first two weeks of May. This was quite an accomplishment during the beginning of third trimester of her pregnancy. We also hosted a combination Graduation/Christmas party at our home in December.
Kristina's sister Kerri is preparing to start her senior year at California State University Monterey Bay (CSUMB) in Seaside, CA. (Kerri Graduated... Yea.).
The San Luis Obispo Rugby Club placed second in Southern California Division III .
I flew down to San Diego in March, 2003 and spent some time with Karl Umstadter. The weather was beautiful. We went out and had a little to much to drink. My body can't take that any more. On Saturday we were at the SLO Rugby Match at Robb Field. On Sunday we went to La Jolla and then went to to Karl's office to check out the plasma waste separator.
We are really into "Lilo and Stitch" too. 'Ohana means family, and family means nobody gets left behind - or forgotten.
Kristina has taken a break from flying. In 2002 she soloed in both a Cessna 152 (N6287Q) and a Cessna 172 (N4963G). Executive Aero (Pigs Can Fly) at San Luis Obispo airport (SBP) is where she flys.
I also want to thank Tamara again for the beautiful Cannon S-30 digital camera I got for Christmas 2001. I should have added some of the pictures I took to this web site, but I have not yet. For now you can see some of them on the SLO Rugby website below. I took a lot of the pictures last season while I was out with and ankle injury.
I was reelected treasurer of the San Luis Obispo Rugby Club.
Check out Kristina's web page also. It looks like her home page is gone. Maybe we can set up a new one when we have lots of free time after the baby comes :-).
Wow, it has been over six years since we moved into our home in May 2000. Click for some photos from before we moved in.
This link will get you to a page with contact information.
Hopefully I will have some time to redo this web page soon. It was pretty nice when I first made it in 1997, but now it looks a little dated . Note: some changes have now been made. More to come.


Here are some of my favorite links

Photos: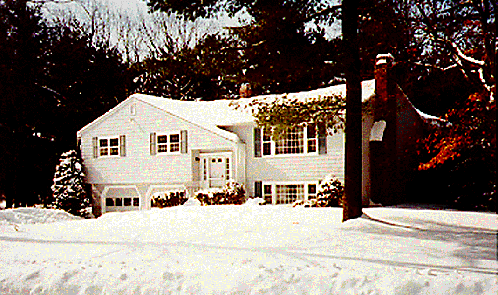 This is the home where I grew up in Chelmsford, MA.

I live in beautiful San Luis Obispo, CA (SLO)

Friends on the Web:

Last Updated: October 08, 2007