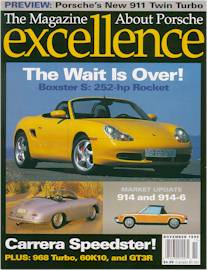 Excellence Magazine, November 1999, #89
Subscription Inquiries: Ross Periodicals, Inc. 42 Digital Drive #5, Novato, CA 94949
(415) 382-0580, telephone
(415) 382-0587, fax
---
Boxster Rocket
Porsche lights the wick on its newest roman candle -- the 252-hp, six-speed Boxster S.
by Pete Stout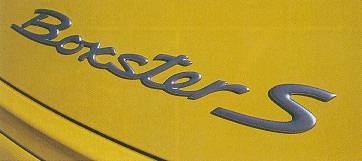 Following tradition, the sportiest Boxster is now justly labeled the "S."
Excerpts:
...Once we got around the corner ourselves, the yellow dot that was directly ahead of us only a moment before showed us what the new Boxster S is all about -- speed. And plenty of it...
...Porsche's new Boxster S is a significant step up from the Boxster, which is already an outstanding automobile. The new, 3.2-liter flat six belts out 252hp -- a big jump over the 201 horses the current, 2.5-liter Boxster engine produces. The new engine also makes 225 ft/lbs of torque -- another big jump from the standard Boxster's 181 ft/lbs. From 2000 rpm, 85% of the Boxster S engine's 225 ft/lbs is available...
...the Boxster S uses a version of the 911's six-speed transaxle, which is made especially for Porsche. The standard Boxster shares its gearbox with Audi cars...
...Engine cooling for the larger, 3.2-liter engine is provided by an additional, third radiator located behind the front bumper...
...the Boxster S cylinder heads are made out of an aluminum-alloy that is better able to handle high engine temperatures without distortion of failure...
...The Bosch Motronic ME 7.2 engine management system introduces E-gas to the Boxster line, which will become standard equipment for all 2000 model-year Porsches...
...As is the tradition with Porsche, more power means bigger brakes, and the Boxster S is no exception. The standard Boxster's excellent four-wheel-disc system is improved with an upgrade to brakes taken directly from the more powerful, 996-based 911 Carrera... front brake rotors are now 12.52 inches... rear rotors are 11.78 inches... painted bright red...
...more progressive springs, different anti-roll bars, firmer shock absorbers, and revised strut mounting locations...
...a set of slightly different 17-inch alloy wheels, a few bits of "Titanium" trim and badging, and a twin-pipe exhaust...
...An exclusive new Boxster S feature is a top headliner that adds a significant sound barrier...
...The Boxster S feels more like its blisteringly fast older brother, the 911 Carrera, than it does a regular Boxster...
...The first examples of the Boxster S will start arriving... in Late October or early November.
---