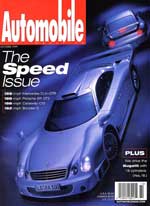 Automobile Magazine, October 1999, Volume 14, Number 7
to subscribe: 800-289-2886 or 303-604-1465
---
S Is More
The Boxster S is the missing link in the Porsche range.
by Georg Kacher
Excerpts:
Look at them head on, and it's hard to tell the Boxster S apart from the 911 Cabriolet. Turn the ignition key and you'll be surprised by the distinct aural symmetry between the Boxster's flat-six engine and the 911's...
...the 3.2-liter Boxster S is only about $8000 more expensive than it's 2.7-liter sibling and a whopping $25,000 cheaper than the 911 Carrera 2 cabriolet. Dynamically, the top-of-the-line Boxster has moved dangerously close to the 911...
...new to this Boxster's boxer are a two-stage intake manifold, an advanced engine-management system, electronic throttle, dry-sump lubrication, and instant-on tri-metal catalysts...
...The cable-operated six-speed transmission was also adopted from the 911, down to the final-drive ratio...
...The main chassis revisions are tauter springs and dampers. longer rear steering arms, larger rear wheel bearings, and bigger wheels and tires...
...The brakes are yet another dowry from the 911. The vented and cross-drilled rotors are larger and significantly wider than the 2.7-liter car's...
...New options include Litronic xenon low-beam headlamps... and an improved stereo...
...While the 911 is now a GT, the Boxster S has the sports car soul of the old 911...
...this kind of greatness usually costs a whole lot more.
---