PGP - Public Key
---
If you would like some more information about PGP and Public/Private Keys, see Bill Standley's web page. The PGP link below used to contain excellent information, too (and still might). Sadly Network Associates has "improved" it.
The gibberish at the bottom of this page is my Pretty Good Privacy (PGP) Public Key.
What's it for?
Decoding private messages from me.
Verify that something I sent you was authentic and not tampered with.
Sending a private message to me (but I'll need your public key to read it).
How do I use it?
Once you've obtained your copy of PGP (while it's still legal to do so), install the software, then click here (updated Thursday, June 17, 1999 12:30 PM) to place my public key on your key chain.
If that doesn't work, scroll down to the bottom of this page and copy my public key manually.
Some tips
Here are some things I've learned about creating your key. I ended up scrapping (revoking) my original key and creating a new one. If you search for "Berkeley Johnston" on the PGP server, you'll see my old and new keys. Use them for reference.
Here's my current entry. Click to see the full image including my revoked entries, too.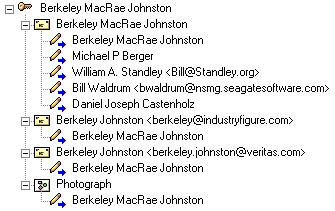 Use your full name when you create your key. Even though "Berkeley Johnston" is a unique name, there are at least two others. However, "Berkeley MacRae Johnston" is far more unique. Some day my son will be old enough to distrust the government and (if he takes this advice) his key won't be confused with mine.
Don't add your email address to your main key name. Things change. Even though I consider "berkeley@industryfigure.com" to be my permanent address, it might not be. Although having a bogus email address won't invalidate my keys, it would be confusing.
Add your nicknames/common names to your new key. If my key was only listed as "Berkeley MacRae Johnston" and you searched for "Berkeley Johnston" you would come up empty. Fortunately for you, I added "Berkeley Johnston <berkeley@industryfigure.com>" and now you can find me! Plus you know that I'm an IndustryFigure, so now you can be doubly sure that it's me.
Associate your common names with your email addresses. People at Veritas know "Michael P Berger" as "Mike" so he added a "Mike Berger <mike.berger@veritas.com>" to his key. Now if I search for "Mike Berger" I'll find him and I'll know it's him because of his veritas.com address.
Add a photograph. An image of you can help identify you to your friends ("Is this the John Smith I'm searching for, or just another random John Smith?").
Be sure to "Send to... Domain Server" (upload) your modified key to the PGP server.
Be sure to "Update" (download) your key once in while. Friends might have signed it.
---
-----BEGIN PGP PUBLIC KEY BLOCK-----
Version: PGP Personal Privacy 6.0.2

mQGiBDdhqTQRBADk+wd7UrAORxYokCjF1NGkfvz2XkR+IRfoRjTgW54ZhIWI86sg
s2O0prZtNPQV3ZuNc3n9KXZLpBBtJEwKxK8xef0O3PvsoCuUe3LbFf+e2fewe1LJ
IurYAPRh6Zad5r9YTZuxgfLicD2QVE7xPLvcgl+6V0l/MW8fyeQzJuEVcwCg/2Es
5Asf/zomSa45268fNQVRwyUD/0b9FxVBGFdWvYAQ8snuplVRkazOmKg3/BTvW5le
rUoRFw1JIx30MsNbzw7nkAu9tHHQTbQ9ZF82EONDwWbbLYNAJhO98Di9DGa6mDHH
hHG/rsv+5z9d5OxAGt2p31Zizcq9A3AubFaoflsXn6umKfbhXIXzumgx/OjX7r5X
YI0dA/0eDK7dXruoefGtUmmcwU7IJxhTp0S1LnUiqfYxP/MuuPAwMDp0tNVVmfln
xlr/4fprbvCYPEpu/QwizGV2NMpNZQwhMZ4HkJGs/4cUI3Yjct7Jl4ZjAG2HHamI
IQR/B0SGgzRMYDDNUmLXRYAmoTM6YJUNqBMlNfM/sCLE9rLS7rQvQmVya2VsZXkg
Sm9obnN0b24gPGJlcmtlbGV5QGluZHVzdHJ5ZmlndXJlLmNvbT6JAEsEEBECAAsF
AjdhqTQECwMCAQAKCRAKo7uQusBG9NVhAJ9Nh0DSZegOhArcjW9POCTX/GctfwCg
zW+xwpFZjA2TcAweq4kTqyGpXS25Aw0EN2GpNBAMAMwdd1ckOErixPDojhNnl06S
E2H22+slDhf99pj3yHx5sHIdOHX79sFzxIMRJitDYMPj6NYK/aEoJguuqa6zZQ+i
AFMBoHzWq6MSHvoPKs4fdIRPyvMX86RA6dfSd7ZCLQI2wSbLaF6dfJgJCo1+Le3k
XXn11JJPmxiO/CqnS3wy9kJXtwh/CBdyorrWqULzBej5UxE5T7bxbrlLOCDaAadW
oxTpj0BV89AHxstDqZSt90xkhkn4DIO9ZekX1KHTUPj1WV/cdlJPPT2N286Z4VeS
Wc39uK50T8X8dryDxUcwYc58yWb/Ffm7/ZFexwGq01uejaClcjrUGvC/RgBYK+X0
iP1YTknbzSC0neSRBzZrM2w4DUUdD3yIsxx8Wy2O9vPJI8BD8KVbGI2Ou1WMuF04
0zT9fBdXQ6MdGGzeMyEstSr/POGxKUAYEY18hKcKctaGxAMZyAcpesqVDNmWn6vQ
ClCbAkbTCD1mpF1Bn5x8vYlLIhkmuquiXsNV6UwybwACAgv+Mfd4rgM+JMqP9swG
S/roZhzfEEoggtBd2AQnnC678MAZ4nXcFAFPJSTHOXfcxmUQ+3/8V+Gxk8/wTW1e
p/29+U8LYA0FLmuWi0/LSo1Gk8qj2Q/VgA+kVL0Jl+gjdFr2K41eSMpq+iYDnlLw
rqqzTexEH6YWrRuiSk5aJBQQBs1pBL5cY2A9xxHwzA8wIYgC+zAw0SoDG0aXGiz/
jZXv3ClwT8w+QUbVaevn7xRHrSb6JeTTHkllyrtnCPYF+2RQeEJPqroD7OXPJlUv
sfF51xSiT8y7DR0mUOI+21X7uixEmnHmrm/ZLgL7cWVMX/atqRLBsUQ896TgWD7I
2P/e6goROMXhvs1pCcmv0kxuZ5lvOhLFfwcV/Ns1Ec8KBNo0IV0cK/h3UIGoKu3w
F1KttrjyEK9XxKTqyzxCTiKR/kBZTxr0E+MsV8KrmymSc47JmID6C6TUaNi53nM/
wP7SmzvF+2TliP6vzA2ynxiGwFGMZOGqmwGkqGC+Rbw9P/AIiQBGBBgRAgAGBQI3
Yak0AAoJEAqju5C6wEb0pu0AoLnJSjTpRyx3Tb9smtNSYdRHBlePAJ4+zsR2ibVr
+a56kLGELmGlk2A1JA==
=SxuI
-----END PGP PUBLIC KEY BLOCK-----
---