Berkeley's Full-Size Jeep Grand Wagoneer SJ

Last updated: Saturday, November 08, 2008 09:05 AM -0800
---
1988 FSJ SJ, a Full-Size Jeep Grand Wagoneer. Here's some information.

I bought my parent's 1988 Grand Wagoneer in August 2003.
---
Upgrade:
TFI Ignition Upgrade (this is the work I've done on my Wagoneer)
TFI Upgrade Information (this is information I used to do the TFI upgrade)
Additional TFI Information:
Juicebox Installation
Keith's TFI Upgrade
Jeepz.com Upgrade (Jeeps Only how-to directory)
Bob Marr Upgrade (Bronco)
MSD 6A Wiring
TFI Ignition Upgrade (Brougham)
Repair:
Tailgate Window Lifter Channel replacement
New Cheapo Shocks
Radiator possibility: GO/DAN 433581
From IFSJA.org: 2150 rebuild
Conversion to Razor grill
Various interior stuff
Various exterior stuff
Distributor Info:
Factory spark plug gap: 0.035"
Distributor:
Firing order: 1-8-4-3-6-5-7-2
Rotation: Clockwise

Pass
Driver
8
7
6
5
4
3
2
1
Front of Vehicle
Misc:
3.31 gears
VIN Info
Links:
International Full Size Jeep Association
Full Size Jeep World
Wagoneer World
BJ's Off-Road
Team Grand Wagoneer
Tom 'Oljeep' Collins - (old site)
Heimeken
Howell EFI
Z&M Full Size Jeeps - Zack Heisey
Riverbeast TT's Fabworks
Grandwagoneers - Wagoneers and Wagoneer parts for sale
Wagonmaster - Expensive "showroom condition" Wagoneers for sale
---
My first vehicle was an orange '71 Wagoneer like this one. (source)
Image manipulation of a stock 90 with a Gladiator grill.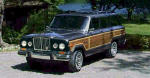 | | | | |
| --- | --- | --- | --- |
| Leaking fuel image: | Door Wiring Chase: | Vacuum Hose Routing | |
---
Since August 2003