Berkeley's Mercedes-Benz Ponton

Last updated: Friday, April 15, 2005 02:59 PM -0700
---
Thanks to Ray's Ponton site, the Mercedes is now...
- Sold -
I don't really have any Mercedes-Benz Ponton information...
I had a 1961 190b and it was a sweet little ride. It ran really well and was maintained, but needed cosmetic work. I sold it to a really cool German scientist who is taking great care of it.
Take a tour of the car along with a commentary on all its faults, or see all the pictures at once.
The car needs paint and a headliner. The interior--stout red German vinyl--is in great shape. The hard-starting problems have been solved by the addition of an electric fuel pump. The engine and transmission mounts have been replaced. The bumpers have been used (if you know what I mean) and have some rust. Some of the lenses are cracked (but not the irreplaceable top front fender mounted ones).
This car has been in the family since new. Mom and her three friends bought it in Germany. They imported it and sold it to her father. After he stopped driving, she got it back and gave it to my sister. Sister took it to USC where the hood ornament was stolen a record-breaking number of times. Father finally got wise and put the new emblem in the glove box (there actually are gloves in it!). After a time, the car came to me in crime-free San Luis Obispo where we reattached the missing hood ornament... which was then stolen. I have a replacement.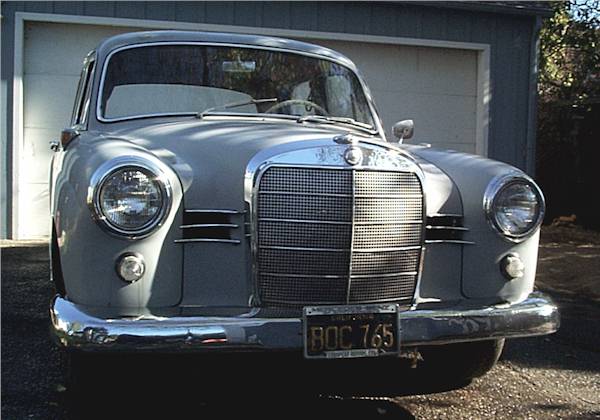 For real info on Mercedes-Benz Ponton cars, go to www.mbzponton.org.
---
Questions & Answers about my car and its condition. Tour of the Car. All the Images.
---
Since September 1999