Recovery Gear USA
---
Thanks to Peter, I found Recovery Gear USA. They have good stuff and some pre-assembled kits. I customized my own kit, similar to the one shown below.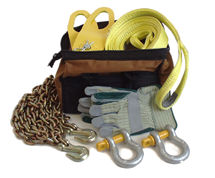 My custom kit includes:
One 5/16" x 10' Transport Chain with Grab Hooks
One Scissors Style Snatch Block
One 3" x 10' Tree Protector Strap (the smaller 2" version is shown)
One 2" x 30' Recovery Strap (not shown)
Two 3/4" galvanized SPA Shackles
One pair premium (premium!) double faced gloves
One large size heavy-duty multi pocket gear bag
The gear bag is really nice. It's got a hard bottom, a hinged mouth opening, lots of pockets, and is made of tough stuff. This bag will last.
Update: I've been using this gear for a couple of years now and it has been invaluable too many times to count. The original purpose of this equipment was to recover myself and others on 4x4 trips, but it seems like I've used the gear more for unconventional activities. I've pulled stumps, drug trees out of the street, straightened steel fence posts, and more. I've got myself and others unstuck, too.
I think I've got the right combination of parts. I use it all and I don't think I need any extra stuff. Wait... I do want a stretchy recovery rope for pulling stuck vehicles. I haven't needed one yet, but you never know!
---
Industry Figure | Berkeley | Jeep Cherokee | Back to Recovery Gear