Berkeley's Chrysler Town & Country

Last updated: Tuesday, February 01, 2005 10:16 AM -0800
---
I love my Chrysler Town & Country minivan.
I have an LXi and it's sweet. Add Brembo brakes and a supercharger and it would be perfect... a sort of Porsche minivan.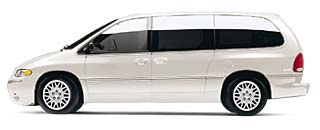 The French are back-stabbing pu55i35, but they make the best tires in the world.
215/65-16 Michelin HydroEdge




I want the latest version with the Stow 'n Go disappearing seats. Those would really come in handy. You hear me Tracy?
---
Since September 1999